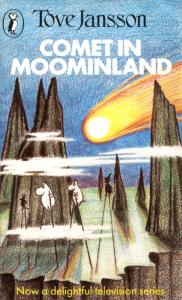 I found a great old Puffin edition of this in a charity shop recently and it turned out to be absolutely fantastic. Apart from having a beautiful cover featuring Moomintroll, Snork Maiden and Snuffkin on stilts walking across the seabed it also has sumptuous images inside such as Moomintroll pearl diving in one of Hokusai's waves and Sniff staring through a telescope at the titular comet passing through Van Gogh's Starry Night sky.
The story tells of Moomintroll and Sniffs journey to the astronomers to discover whether the comet they have been having premonitions about is going to hit the planet. Along the way they meet a variety of weird and wonderful folk and have many odd little adventures.
The book is filled with awe, wonder, imagination and warmth and was a truly wonderful experience.
Wonderful Wooden Reasons
is a webzine dedicated to experimental and non-commercial music of all forms.
Please visit
www.wonderfulwoodenreasons.co.uk
to access our extensive archives of music, book and movie reviews.